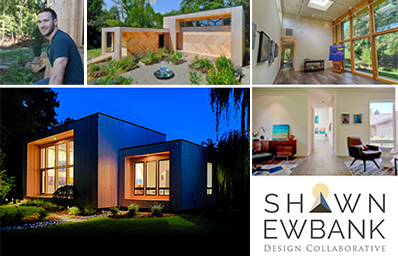 My research process for The Fisher Studio and Gallery began by engaging in a dialogue with the client, Gary Fisher, about his art, process and goals. I used the concept of "problem seeking" to identify and resolve issues related to use of space, critical lighting factors and sustainability. Conversations with other artists, manufacturers and specialists, general documentary research to supplement gained insights and on site testing of lighting solutions resulted in a building that functions well as a studio/gallery with office and lounge while creating the proper type of diaphanous light for this artist and integrating multiple ecological design
strategies.
As a result, I determined from this research that the building should function both as a studio for creating art and a gallery for exhibiting paintings and hosting receptions, concluding that the studio space would have a significant ceiling height and proportionate floor area so that large paintings could be created and exhibited in a way that allowed the viewer to stand at a distance and gain the proper perspective. Research made clear the benefit of an office and corresponding "living room" space for research, relaxation and contemplation, a "prep room" to house significant storage for raw canvas and completed works not being displayed. Further outcomes showed that various styles of painting require differing qualities of light in which the artist should work. For abstract expressionism, the style in which this artist paints, the ideal quality of light was determined to be what I like to call less-sharp or "delicately hazy".
To meet sustainability goals, I then identified several strategies and concluded that all artificial lighting would be from LED sources, at the highest CRI (color rendering index) and medium color temperature of 3000K. Additional strategies derived from the research process included the use of solar panels, skylights, tankless hot water heater, waterless urinal in the bathroom, highly energy efficient windows, insulation that exceeds code requirements, low VOC paints, stains and adhesives, and an integrated fresh-air intake system.
Following these insights, the studio/gallery has a ceiling height of sixteen feet covering a space that is proportioned to accommodate viewing large paintings and is expanded by a Northern wall of windows that affords views toward woods beyond. Perpendicular to the studio is a corresponding section with a lower ceiling height which houses the ancillary spaces. On most days the studio can function with no artificial light. The North facing window wall, domed acrylic skylights with translucent interior panels, and Southern clerestory windows, protected by a 4 foot eave, work in concert, as designed, to create the diaphanous quality of light crucial for an abstract painter.
The high roof of the studio/gallery provides an elevated and flat surface for the 5.4 kW photovoltaic array. The rigid foam insulation, used to create drainage slopes on the flat roofs, increased the insulating factor of the roof assembly. The white, reflective TPO membrane roof surface reflects light in warm summer months, reducing energy loads on the building. All additional sustainability items listed above were implemented, reducing the building's ecological impact.