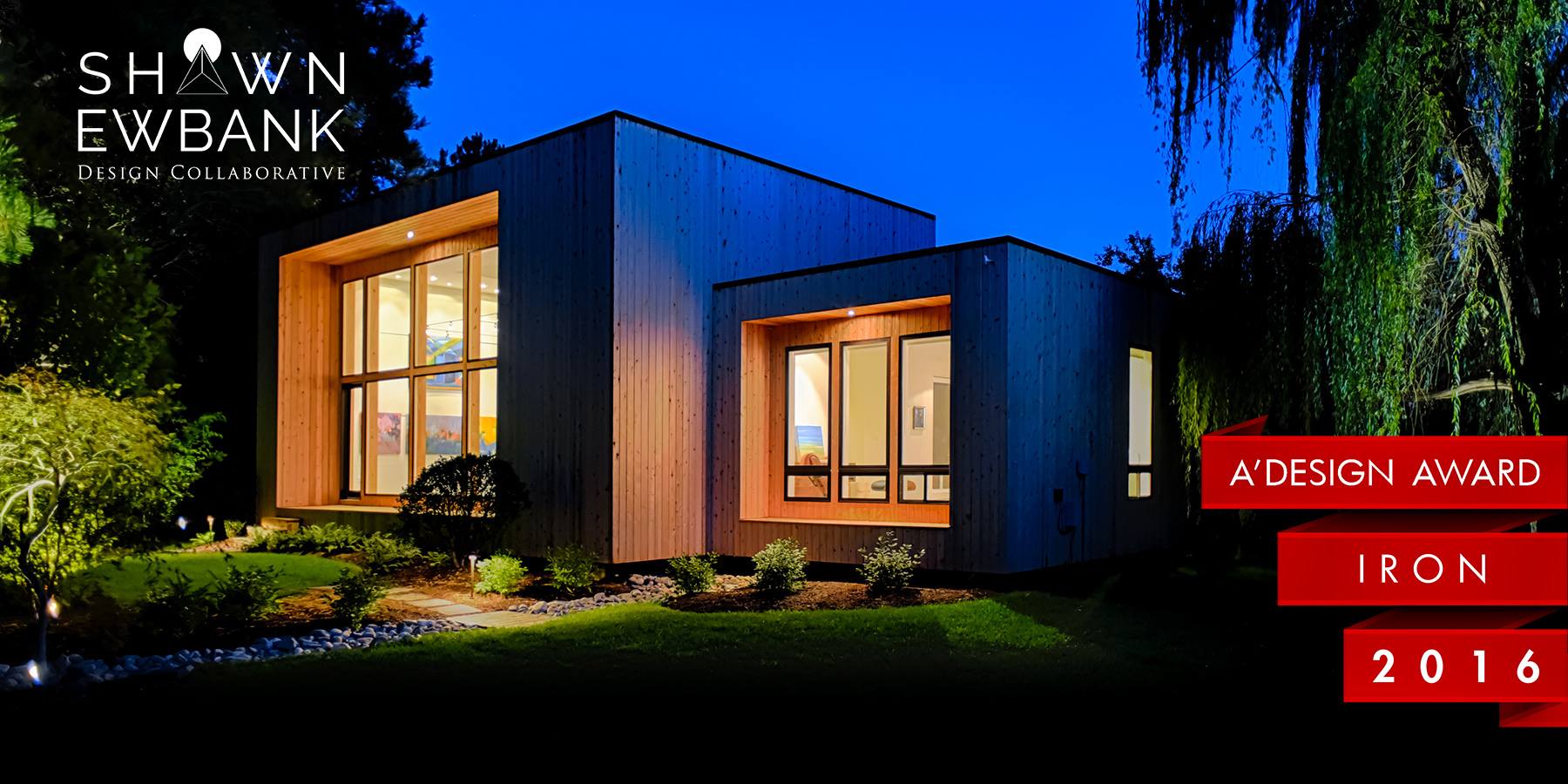 Shawn Ewbank, of Rehoboth Beach, DE, wins a prestigious Iron A' Design Award for the Fisher Artist's Studio and Gallery in Architecture, Building and Structure Design Competition.
(Rehoboth Beach, DE) May 10, 2016 – Shawn Ewbank, of Rehoboth Beach, DE, has received a prestigious A' Design Award for the Fisher Artist's Studio and Gallery in Architecture, Building and Structure Design Competition.
The Fisher Studio was selected as one of the winners by the esteemed referees of the A' Design Awards & Competition from thousands of submitted works.
About the Fisher Studio
The new Fisher Studio is located on a large, verdant property in composition with the client's existing home in Rehoboth Beach, DE. The building was created for artist, Gary Fisher, and functions as a professional studio for making art, a gallery for exhibiting paintings and hosting receptions and provides a retreat from the main house. One of very few modernist structures in the region, the building is intended to be both sculptural and ecologically sensitive.
Gary Fisher, an established painter and avid gardener, inspired the project. Shawn's vision was to create a building as an artwork to arouse the artist's creative impulse and provide the freedom to paint without intervention. His artwork is on display in several galleries including Gallery 50, Rehoboth Beach Delaware; [blank] Slate Gallery, Sarasota, Florida; and Wright Gallery Hawaii, in Kona, Hawaii.
About the Designer of the Fisher Studio
Born in Missouri and raised in Texas, Shawn Ewbank relocated to the Delaware coast from San Francisco, CA to complete his first project and founded the Shawn Ewbank Design Collaborative, currently based in Lewes, DE. Shawn completed a B.B.A. in finance at the McCombs School of Business at the University of Texas at Austin and holds a Master of Architecture from the San Francisco Institute of Architecture, where he learned from pioneers of the ecological design movement. He also spent three summers living and studying at the Frank Lloyd Wright School outside of Scottsdale, AZ.
Shawn is dedicated to architecture that explores the link between the human condition and the built environment. He is strongly influenced by his study of consciousness and the human spirit, ecological design principles and the arts.
Project Members for Fisher Studio
Fisher Studio was designed by Shawn Ewbank, of Shawn Ewbank Design Collaborative. The project's structural engineer was Orndorf & Associates with landscape design by Morgan Washburn of Botanical Decorators.
Fisher Studio was constructed by Burton Builders.
Photo Credit: Keith Mosher.
The A' Design Award
The A' Design Award is a prestigious award given to the top twenty percent of designs submitted that have accomplished an exemplary level of originality. Entries to the A' Architecture Design Awards are peer reviewed and anonymously judged by an expert jury panel of prominent academics, important press members and established professionals. Nominated architecture designs are voted on pre-determined evaluation criteria to highlight only the very best architecture design works.
About A' Architecture Design Awards
The A' Architecture Design Award aims to highlight the excellent qualifications of the best architecture designs and greatest architecture design concepts worldwide. The A' Design Accolades are organized and awarded annually and internationally in multiple categories to reach a wide, design-oriented audience. The ultimate aim of the A' Architecture Design Competition is to create a global awareness for good design. Learn more at: http://www.whatisadesignaward.com
The Winning Design
Fisher Studio at A' Design Awards: https://competition.adesignaward.com/design.php?ID=44451